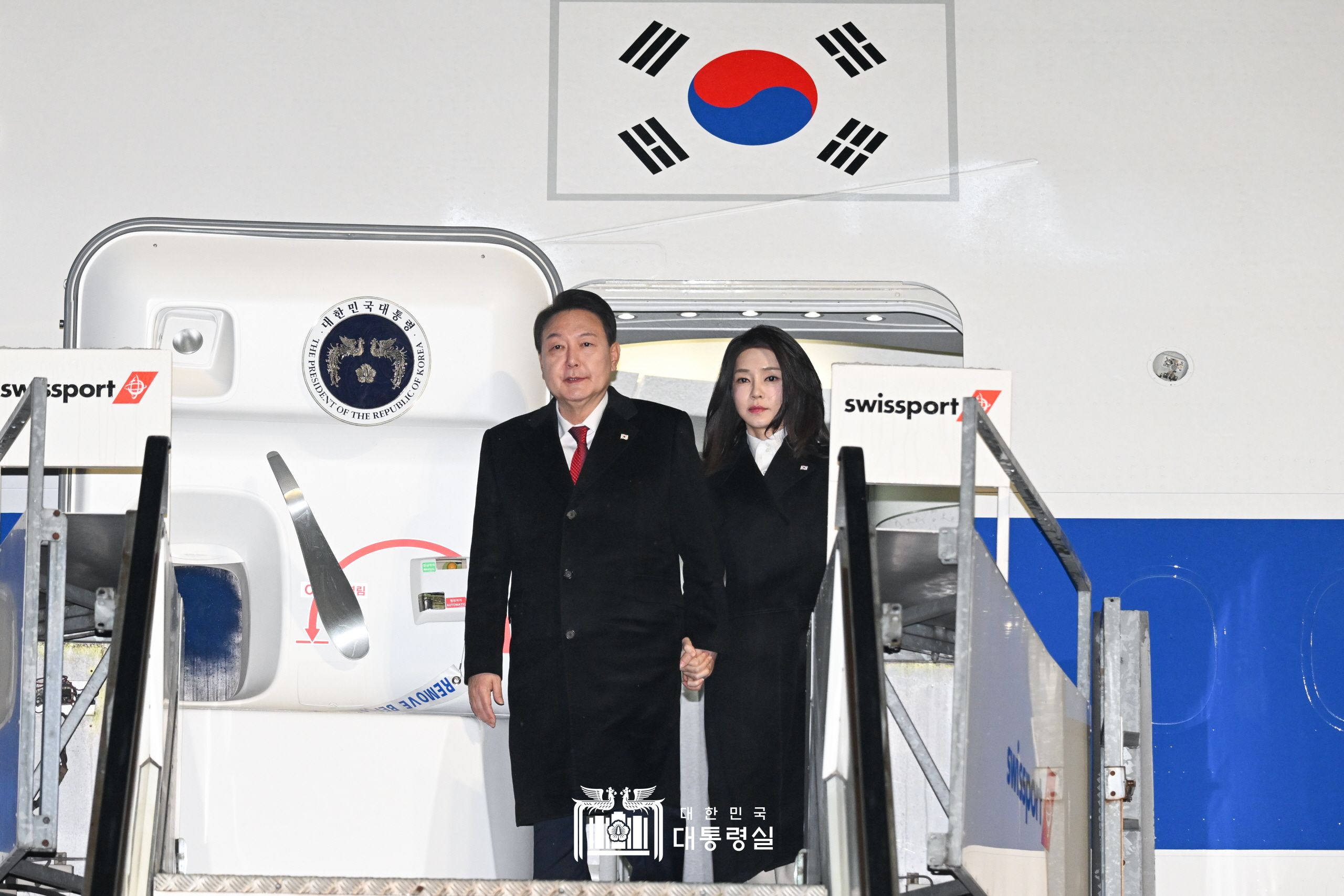 https://w.soundcloud.com/player/?url=https%3A//api.soundcloud.com/tracks/1426786993&color=%23ff5500&auto_play=false&hide_related=false&show_comments=true&show_user=true&show_reposts=false&show_teaser=true
President Yoon arrives in Switzerland for World Economic Forum
By Min Yea-Ji
Photos = Office of the President
President Yoon Suk Yeol on Jan. 17 arrived in Switzerland after making a four-day state visit to the United Arab Emirates (UAE).

Arriving in the afternoon at Zurich Airport in Zurich on the presidential plane Code One, he will deliver a special address at the World Economic Forum, also known as the Davos Forum.

Senior Secretary to the President for Public Relations Kim Eun-hye said in a written briefing that as the final event of his trip to the UAE, President Yoon discussed bilateral cooperation with UAE Vice President and Prime Minister Mohammed bin Rashid Al Maktoum at Zabeel Palace in Dubai.

The president told Vice President Mohammed, who is also the ruler of Dubai, "It is impressive to see Dubai achieving innovative development," adding, "Let Korea and the UAE not only practice bilateral cooperation but also jointly contribute to issues of common interest to all humanity."
"Korea and Dubai both overcame a host of difficulties to achieve the Miracle on the Hangang River and Miracle of the Desert, respectively" he said, adding that to respond to global uncertainty, both countries must strengthen their special strategic partnership.

"Korean companies have contributed to Dubai's development by actively participating in construction and infrastructure projects there, so please support these companies so that they can actively take part in major economic projects in Dubai down the road."

"To implement the UAE and Dubai's grand vision Projects of the 50, I am confident that Korea can be the closest and most trustworthy companion ("rafiq" in Arabic)," President Yoon added. "For this, I look forward to working closely with Vice President and Prime Minister Mohammed."
Vice President Mohammed said, "In the process of advancing toward our goal of developing Dubai into one of the world's top three cities by 2033, Korea will be a core partner." Hailing Korean companies in Dubai as having the best capacities, he added, "I hope that Korean companies continue to actively advance to Dubai and contribute to the economic development of both countries."