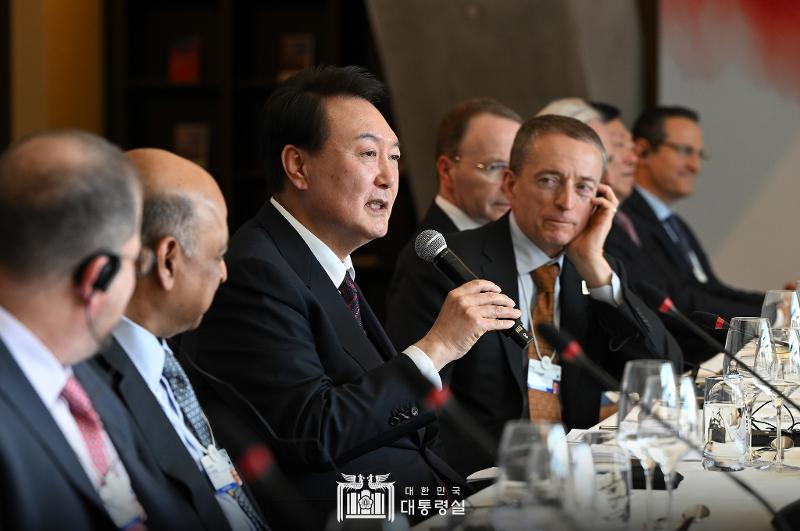 By Margareth Theresia
Photos = Facebook page of Office of the President

President Yoon Suk Yeol on Jan. 18 in Davos, Switzerland, urged the CEOs of world-leading corporations to invest more in Korea, saying, "The Korean market is open and so is my office, so please visit any time."

Senior Secretary to the President for Public Relations Kim Eun-hye said in a news release that President Yoon in the afternoon made the statement at a luncheon he hosted at a hotel in Davos. He is in the city to attend the World Economic Forum (WEF), also known as the Davos Forum.

Inviting leading domestic and foreign entrepreneurs who are in Davos for WEF, the luncheon was arranged to allow discussion of solutions to global issues such as supply chain stability, digital transformation and response to climate change, as well as desirable relations between the government and private sector.

Calling himself "the Republic of Korea's No. 1 salesperson," the president said, "I arranged this event because I consider it my moral duty as the Republic of Korea's salesperson to meet global entrepreneurs and have lunch with them."

Blackstone Chairman and CEO Stephen A. Schwarzman called Korea a business-friendly country good for conducting business over his 25 years of working in Korea, and said the president is a great salesman with as much salesmanship as Blackstone's.

IBM Chairman and CEO Arvind Krishna said Korea's strong IT services is of great help in making global advances, adding that Korea and the U.S. could dominate the global market if they cooperate in quantum computing.

Qualcomm CEO Cristiano Amon said that in doing business in Korea for more than 30 years, Korean corporations have shown true innovation and he hoped for cooperation with Korean businesses over the next 30 years as a long-term partner.

Benoit Potier, board chairman of French industrial gas giant Air Liquide, hailed Korea as a country playing a crucial role in all sectors and a place where everything is possible including hydrogen, semiconductors and health care.

Khaldoon Khalifa Al Mubarak, CEO and managing director of Mubadala Investment of the United Arab Emirates (UAE), said his country made a difficult decision 14 years ago in nuclear energy by selecting Korea for its project. The UAE fielded bids from the U.S., Japan and France in the sector, he said, but his country decided to partner up with Korea based on data despite Korea having no experience in exporting nuclear power plants at the time.

Based on that criterion, he added, the UAE evaluated its partner's innovative capacity, skills and implementation ability and ultimately got everything it wanted from the partnership.

He said he directly experienced Korea for 14 years in innovation, execution ability, engineering technology, energy conversion, R&D and human resource development. Al Mubarak said the fourth nuclear reactor will soon be commercialized and thousands of engineers will develop the latest nuclear reactor and produce electricity at the lowest cost with the world's highest efficiency.
Secretary Kim said, "The CEOs who attended today include those considered the most powerful in global finance by Forbes magazine and those on Time magazine's list of the world's 100 most influential people."
"It's hard to find a precedent of world-leading CEOs of business groups, the Republic of Korea president, deputy prime minister for economy and finance, members of the State Council and other high-ranking government officials gathered in one place to discuss Korea's future."

Korean entrepreneurs who attended the luncheon included Samsung Electronics Executive Chairman Lee Jae-yong, SK Group Chairman Chey Tae-won, Hyundai Motor Group Chairman Chung Eui-sun, LG Group Chairman Koo Kwang-mo, Lotte Group Chairman Shin Dong-bin and Hanwha Group Vice Chairman Kim Dong-kwan.

Their foreign counterparts were CEOs of global corporations from a range of sectors like Intel, IBM, Qualcomm, JP Morgan, Mubadala Investment, Blackstone, Bank of America, Vista Equity Partners, Hitachi, Shell, Air Liquide, Total, Nestle, TPG and Lippo.

The luncheon ran for about 100 minutes, almost 20 minutes over the scheduled time.

margareth@korea.kr