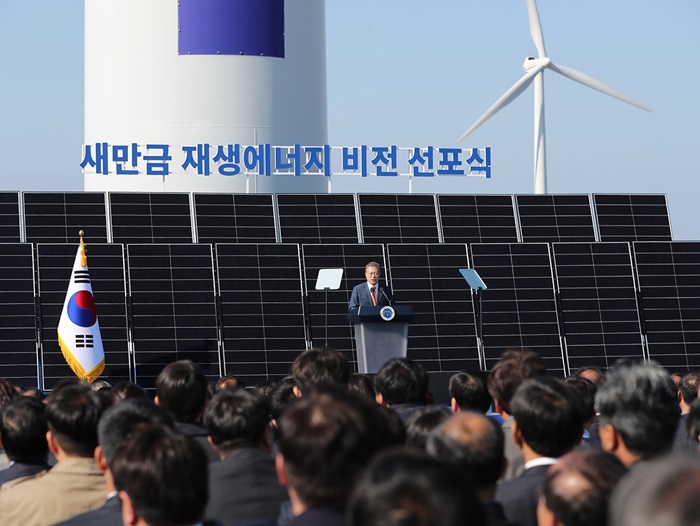 By Kim Young Deok and Kim Young Shin 
President Moon Jae-in announced that the government will transform Saemangeum reclaimed land area in Gunsan, Jeollabuk-do Province, into the center of Korea's renewable energy production during the ceremony held at the offshore floating solar energy plant in Gunsan on Oct. 30.
"One of the world's biggest solar energy and offshore wind energy generation facilities will be built in the Saemangeum area," said President Moon, visiting the region for the second time after his inauguration. "The renewable energy production in this area will be a turning point for Korea's renewable energy business that will foster the nation's competitiveness in the field."
"We will raise the level of renewable energy technology by placing related manufacturers and research institutes in the new renewable energy complex," said the president. "The renewable energy project in Saemangeum is the touchstone of Korea's new energy policies."
The government plans to place KRW 10 trillion private investment in Saemangeum area to establish a mega-scale solar and wind energy complex that will generate 4–gigawatt (GW), which is equivalent to the energy generated by four nuclear generators.
kyd1991@korea.kr