Acting President and Prime Minister Hwang Kyo-ahn pledged to International Olympic Committee (IOC) President Thomas Bach that the government will do everything it can to make the PyeongChang 2018 Olympic and Paralympic Winter Games a great success, in Seoul on Mar. 14.
In the meeting with the IOC president, Hwang said, "The government and the Korean people will gather all their power to work together for the successful hosting of the upcoming Winter Olympics."
Acting President Hwang and the IOC president talked about the current status of the overall preparation for the Winter Olympics. They also discussed possible support measures from both the government and the IOC for next year's Winter Games.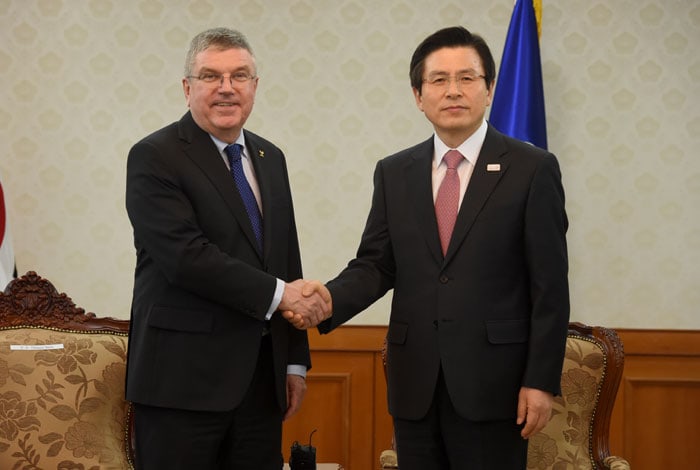 Acting President Hwang called on the IOC to support preparations for the games, saying that, "I hope the IOC can offer financial and administrative support for the successful hosting of the games."
He said, "For the success of the games, we have been actively supporting Korean athletes so that they can put on a good performance at the games."
"We have also been doing our best to attract more attention by hosting a series of events, including the Olympic torch relay that will begin in November this year," the acting president said.
IOC President Bach responded by saying that, "We would like to express our appreciation for the concerted effort of the Korean government and related organizations in support of the PyeongChang Winter Olympics."
"We are confident of the success of the upcoming games, and the IOC will actively cooperate with all of you," said Bach.
By Yoon Sojung
Korea.net Staff Writer
Photos: Prime Minister's Office
[email protected]