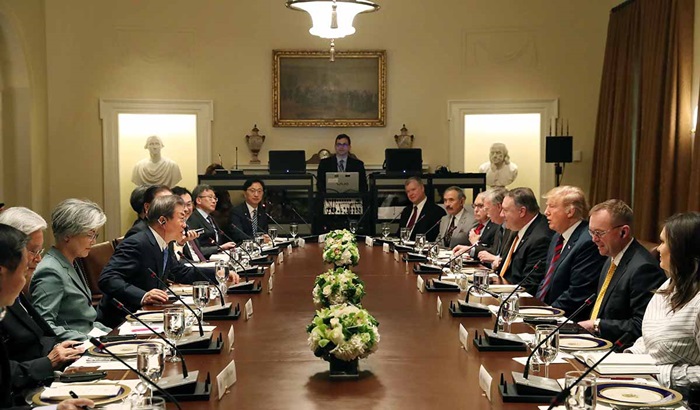 By Kim Minji
The U.S. administration has called last week's summit between President Moon Jae-in and U.S. President Donald Trump in Washington "positive," saying the talks showed a strengthened bilateral alliance and trading partnership.
The White House on April 11 released fact sheets on the summit through its official website, saying, "President Trump and President Moon have made clear that North Korea should follow through on its commitment to final, fully verified denuclearization."
"The ROK (Republic of Korea) stands as one of the United States' closest and most vital allies and friends," it added, saying both countries boosted bilateral relations and will work on furthering economic ties for peace on the Korean Peninsula.
With both leaders discussing improving their trading partnership in the summit, the White House said it highly appreciates the positive effects of the improved free trade agreement on both economies, saying, "President Trump and President Moon welcomed significant improvements to the United States–Korea Free Trade Agreement."
Highlighting Seoul's crucial role in the relationship between Pyeongyang and Washington, White House Press Secretary Sarah Huckabee Sanders said, "President Trump reiterated that he has a very good relationship with DPRK (Democratic People's Republic of Korea) Chairman Kim Jong Un and noted that the door remains open to dialogue."
She also expressed the possibility of follow-up talks between Kim and Trump.