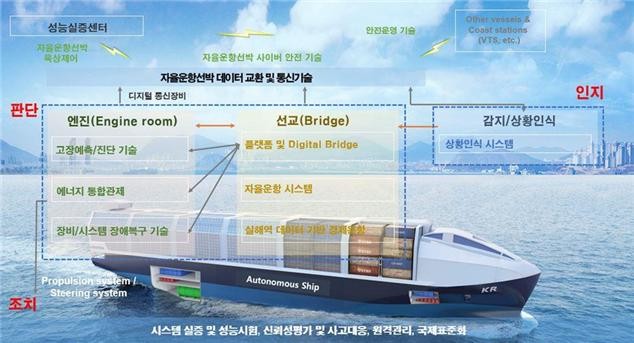 By Lee Hana
A national project to develop self-driving ships powered by a smart and autonomous system incorporating artificial intelligence (AI), the internet of things (IoT), big data and sensors has set sail.
An autonomous ship can navigate waters with little or no human participation, with built-in AI that decides on the safest routes based on photographic scans of the ship's surroundings using on-board cameras.
The Ministry of Trade, Industry and Energy and the Ministry of Oceans and Fisheries on June 17 announced the launch of a joint working group for a systematic push for this project. Operated by both ministries, the project will incur a budget of KRW 160 billion to launch a self-driving vessel by 2025.
The plan is to develop ocean liners with Level 3 autonomous features, which the International Maritime Organization defines as vessels controlled remotely with a minimum number of crews, with the ability to predict and diagnose obstacles. Coastal ships will be developed with the goal of achieving Level 2 autonomous features that include remote control with crew on board.
Industry experts estimate that the global market for self-navigating ships, including vessels, equipment and materials, will reach USD 155 billion by 2025.
"Our goal is to take 50% of the related market's share by 2030, when self-driving ships are commercialized. After the project is completed in 2025, we will spare no effort to develop the technology needed for a completely autonomous ship with Level 4 features," said Kang Gyeong-seong, director-general for industrial policy at the Trade Ministry.