By Jung Joo-ri and Lee Jihae 
Seoul | Aug 2, 2019
Oh In-tae, 34, the owner of the pasta restaurant Zinjja Pasta in Seoul's popular Hongdae area, received in late July a letter from first lady Kim Jung-sook saying she deeply respected the "benevolent influence" of Oh's restaurant. The restaurateur said he never thought his actions would have such widespread impact.
Earlier on June 26, Oh had posted on his social media accounts that his restaurant would provide free meals to underprivileged children. Having suffered from financial hardships himself – he often walked in his 20s because he could not afford to take the bus – he said he wanted to provide food to children who could not afford to eat full meals.
He planned the project in February this year but it took him five months to implement it. He also wondered if the term "underprivileged children" might hurt the feelings of such youngsters.
This was not his first attempt at charity. He has provided for over a year and a half free meals to firefighters and offered diners at his restaurant the lowest prices for his most expensive dishes if they showed blood donation certificates, but this project incurred financial losses. Thus Oh worried that providing free meals to underprivileged children could exacerbate his restaurant's financial strain.
Pressing on with his venture despite his initial worry, Oh has seen his project have a ripple effect. Underpriviledged children can receive free meals at his restaurant by showing Dream Wood Cards issued by the government to low-income people. Each cardholder can use an average of KRW 5,000 per day at select convenience stores or restaurants.
Realizing that KRW 5,000 was insufficient to afford a meal, however, Oh posted on his social media accounts how the cards can be used to receive free meals at his restaurant.
Many people left comments on his accounts that expressed support for and spread the news online. Oh started receiving phone calls from small entrepreneurs nationwide who wanted to launch similar projects to help underprivileged children.
The first to contact Oh left him a text message saying, "Thank you for spreading your benevolent influence." This moment marked the birth of the "benevolent influence" movement, in which small entrepreneurs launched programs to help children in need.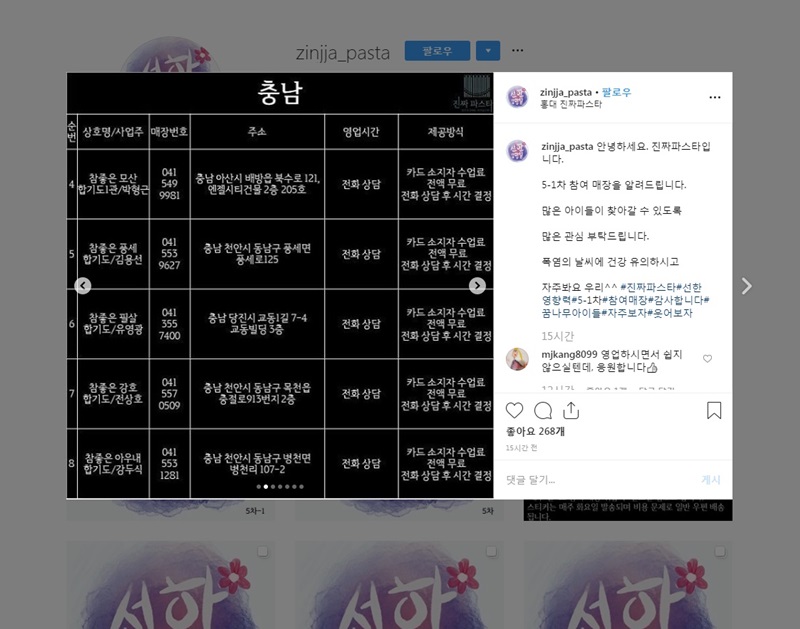 As of Aug. 7, a total of 197 establishments nationwide were participating in the movement including restaurants, hair salons, private academic institutes and concert halls. The posters on such businesses' entrances say "benevolent influence," indicating that underprivileged children who show their Dream Wood Cards can receive benefits there.
In an interview on Aug. 2 at his restaurant, Oh said, "Things I'd never imagined have unfolded over the past three weeks."
He said he has received countless calls from around the country from people wishing to participate in the movement. Some of his customers started to make cash donations, so he installed a donation box at his restaurant, while others anonymously contributed things such as school appliances and shoes.
"We've receive so many donated items that it's hard to store all of them," Oh said.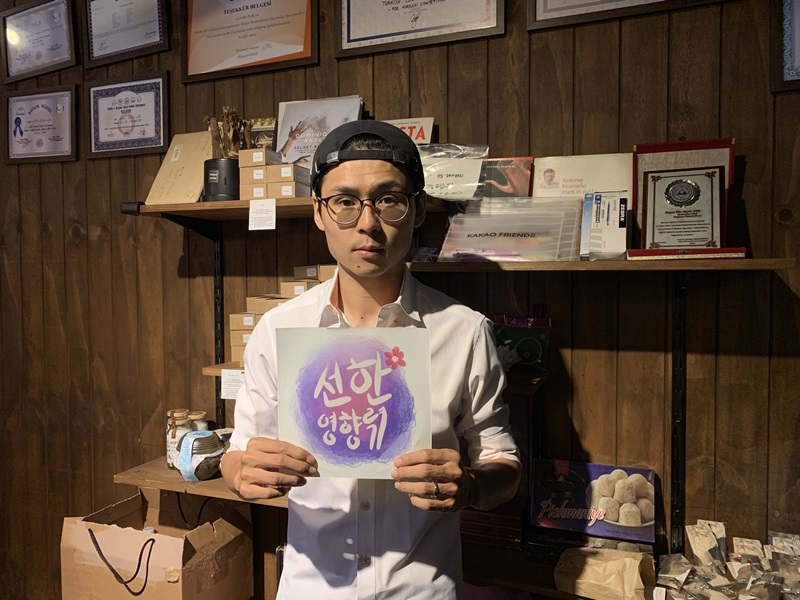 Oh said the ripple effect of his charity gesture over the past month is thanks to each individual who participated in the movement. "When I was little, I received so much help from older children in my neighborhood. I think the modern nuclear society makes it harder for children to receive such help," he said.
"I think a lot of people want children to experience the warmth that can be given by others."
Oh said this altruistic movement can go beyond Korea and spread all over the world. "Everyone cares for others. They just don't know to express their feelings. We want to serve as mediators so that people can carry out their altruism," he said.
"First lady Kim Jung-sook said in her letter that it seems that we're adding warmth to parts of our society not covered by (government) policy. Our goal is to do exactly that."