Nine more countries, including Korea, have taken part in a ceremony to mark their admission into the athletes' village at the 2015 Gwangju Summer Universiade.
Athletes from Korea, Slovakia, Montenegro, Armenia, Lichtenstein, Bangladesh, India, Honduras and Ukraine partook in an event at the village plaza adorned with flags of the participating nations on July 2. During the ceremony they pledged that they would do their best in the games and then they began their official schedule.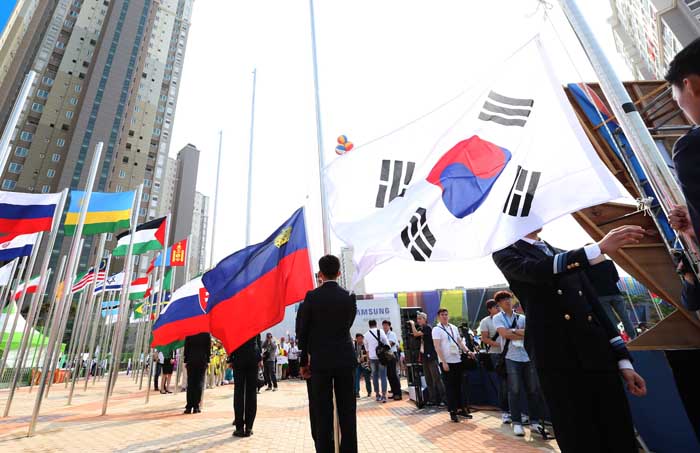 B-boy dancers and cheerleaders performed to welcome the athletes during the ceremony, followed by congratulatory speeches and an announcement of admission. Gifts were exchanged and the flags of participating nations were raised. The anthem of the International University Sports Federation (FISU) was sung and photographs were taken. The ceremony took half an hour.
Team Korea consists of 516 people and they will compete in 21 sports. The first batch of Korean athletes, 222 people who will compete in nine sports including gymnastics, soccer, volleyball and water polo, entered the village on July 2.
By Limb Jae-un
Korea.net Staff Writer
Photos: Jeon So-hyang, Ministry of Culture, Sports and Tourism
[email protected]