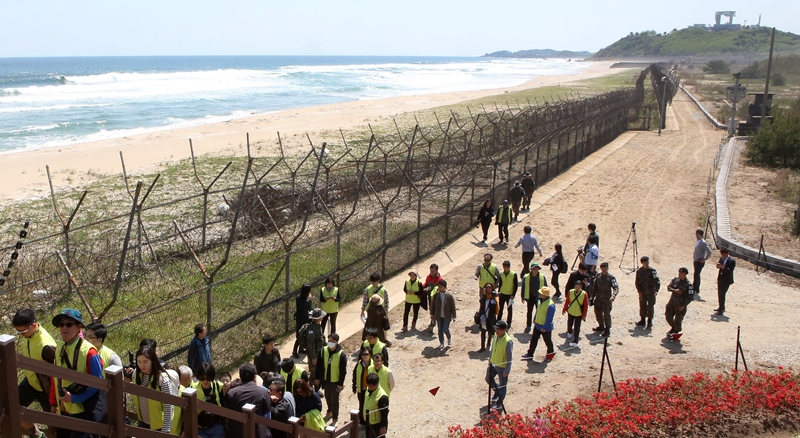 By Min Yea-Ji and Lee Jihae 
The DMZ (Demilitarized Zone) Peace Trail in Paju, Gyeonggi-do Province, will open on Aug. 10, the third of its kind after those in the counties of Goseong-gun and Cheorwon-gun in Gangwon-do Province were opened in April and June, respectively.
The guard post in the Paju area of the inter-Korean border was one of 11 removed under an inter-Korean military agreement ratified on Sept. 19 last year. This will be the first time that the public can visit a site where a guard post once stood.
Facilities and memorials in the area show the vestiges of the Korean War (1950-53). The steamboat at Jangdan Station on the Gyeongui Line, which was hit by a bomb during the war, is now on public display, as is the old Jangdanmyeon Office, which was also bombed.
The 21-km Paju Peace Trail takes about three hours to complete. Visitors start from Imjingak, walk 1.3 km along the barbed-wire fence and the river of the Ecology Exploration Trail to the entrance of Unification Observatory. There, they can take a bus to Dora Observatory and the former site of the guard post.
Slated for completion this year are the trial runs of the three trails and research on an east-west crossing section spanning 456 km from Ganghwa-gun County of Incheon to Goseong-gun. The aim is to establish a travel route featuring base centers across multiple regions by 2022.