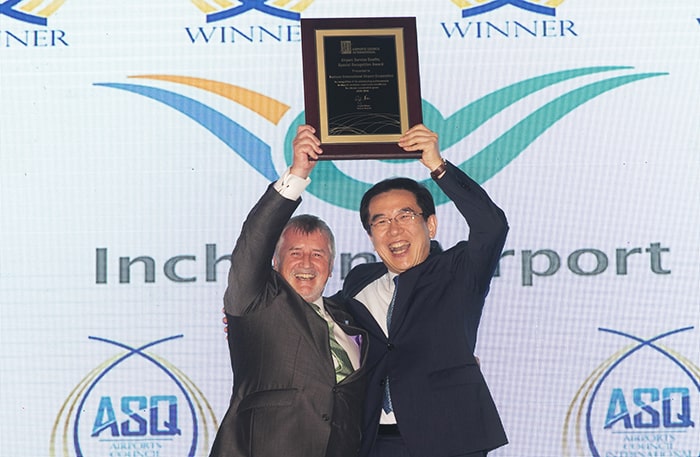 By Xu Aiying and Sohn JiAe
"The world's best airport for 12 years."
This is the title that Incheon International Airport has kept in terms of service for passengers for 12 consecutive years.
The airport was designated as the world's best airport for the 12th time at an awards ceremony for the Airport Service Quality (ASQ) for 2016 held in Port Louis, Mauritius. Since it opened in 2001, Incheon airport has defended its ASQ championship for 12 years, from 2005 to 2016, inclusive.
The Airports Council International (ACI) selects every year's top airports around the world by surveying passengers around the world and asking them to rate their airport service satisfaction.
"Other airports, too, have seen their service levels improve every year over the past few years by always studying and modeling the services knowhow that Incheon has offered," said Angela Gittens from the ACI as he was giving the ASQ Special Recognition award to the airport.
The Incheon International Airport Corporation announced that, since it opened, the airport has pursued strategies of offering the best service possible, which, it said, has led to these outstanding outcomes today. The corporation plans to put all its efforts into building a second passenger terminal at Incheon, slated to be open early 2018. For this reason, the airport decided not to participate in the ASQ Awards any more.
"We won't be content with what we are now, and will continue to leap forward by opening the next terminal next year," said President Chung Il-young of the airport corporation. "Incheon airport will continue to improve our service quality and keep our global-best status," he said.
The second passenger terminal is scheduled to open prior to next year's PyeongChang 2018 Olympic and Paralympic Winter Games. With an area of 384,336 square meters, the five-story terminal is expected to serve about 18 million more passengers annually.
The 1.5-km International Shuttle Train (IAT) that will connect Terminal 1 and Terminal 2 is currently under construction.
According to the airport corporation, the new terminal will become a "smart airport," equipped with cutting edge IT, like artificial intelligence (AI), the Internet of Things (IoT), big data and biometrics, so as to help incoming and outgoing passengers use the full range of airport services with more ease, such as more simplified emigration and immigration processes.