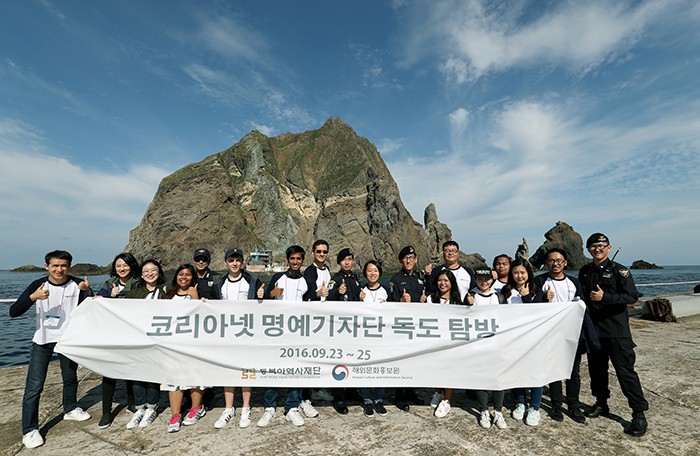 This past weekend, 11 Korea.net honorary reporters from nine different countries set foot on Korea's easternmost piece of land, Dokdo Island.
Hailing from Brazil, Pakistan, the Philippines, the U.S., New Zealand, Tajikistan, China, Malaysia and Korea, the group arrived on the shores of Dokdo on Sept. 25, greeted by blue skies and even bluer waters.
The three-day trip, organized jointly by the Korean Culture and Information Service (KOCIS) and the Northeast Asian History Foundation, took the group on a journey to Ulleungdo and Dokdo islands in the East Sea.
First, the group learned about the history of Dokdo Island, as well as its geographical and ecological significance, at the Northeast Asian History Foundation's headquarters in Seoul.
Upon arriving on Ulleungdo Island, the group paid a visit to the Dokdo Museum there where they learned more about Dokdo Island's role in the narrative of Korean history and its importance to the Korean people.
While on Ulleungdo, the group visited the Dokdo Island Observatory (독도전망대) and hiked up to the Naesujeon Sunrise Observatory (내수전 일출전망대) to get a bird's eye view of the East Sea. They visited the three-tiered Bongnae Waterfall (봉래폭포), the only source of drinking water for Ulleungdo residents, that produces up to 3,000 tons of water on a daily basis.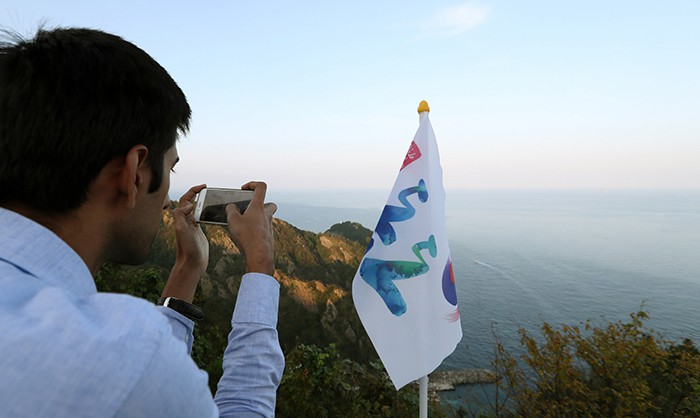 On Sept. 25, the group boarded a ferry bound for Dokdo Island at the crack of dawn, hoping for calm waters around an island known for its erratic weather conditions. Luckily, daylight broke to crystal clear skies and smooth, welcoming seas. Finally, it came time to set foot on Dokdo Island.
"Dokdo Island was always on my list of places to visit in Korea because it's such an important island for Koreans," said Leonardo Ferreira, a Brazilian student at Seoul National University. "Now that I'm here, I can feel just how close the issue is to the hearts of the Korean people. It's an honor for me to be here today."
Majid Mushtaq, a Pakistani student at the Hankuk University of Foreign Studies, and a friend of the Brazilian, said, "It's great to see Dokdo's Dongdo and Seodo islands after seeing them only in pictures during our visit to the Dokdo Museum. It's really great to see everyone here, waving their flags and showing their love for Dokdo."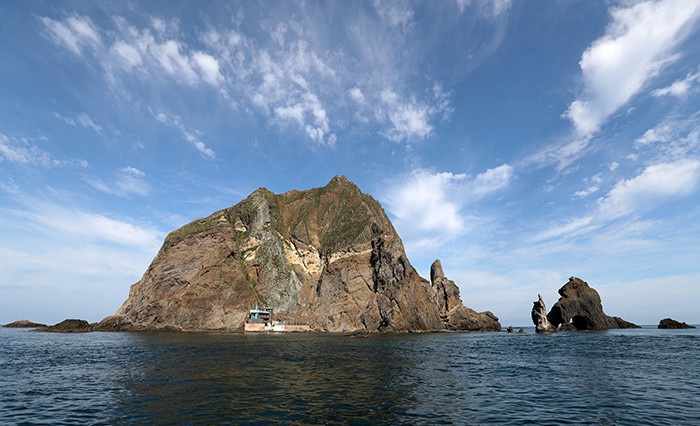 Janine Pineda from the Philippines, mesmerized by Dokdo's beautiful scenery during the group's 30-minute stay on the island, said, "Now that I'm here on Dokdo, I can understand why the Korean people work so hard to protect the island. It's so pristine and lovely. Even though this was a brief stay, I'm glad that I got to meet and greet the beautiful Dokdo Island."
By Lee Hana
Korea.net Staff Writer
Photos: Jeon Han, Korea.net Photographer
[email protected]