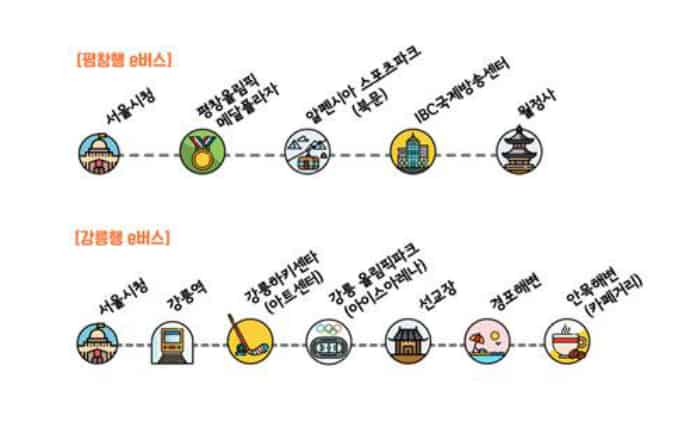 By Hur SomEe and Yoon Sojung
Free shuttle buses will operate between the host cities of the upcoming Olympic and Paralympic Winter Games and Seoul throughout the Games.
The Seoul Metropolitan City will run free electric buses between Seoul and Gangneung and Pyeongchang between Feb. 10 and 25, and then again between March 9 and 18.
The buses will run along four routes — from Seoul to Gangneung, from Seoul to Pyeongchang, from Gangneung to Seoul, and from Pyeongchang to Seoul.
The city will run from 10 to 30 buses every day on each of the four routes.
Those who have tickets to Olympic or cultural events in Pyeongchang or Gangneung can book their buses on their desired date. Reservations can be made online via a smartphone or a desktop. Those who wish to use the bus can search for "Pyeongchang ebus" or simply visit the reservation website that has services in Korean, English, simplified Chinese and Japanese. http://www.ebusnvan.com
Those who wish to book bus tickets need to check their reservation period, as they're required to make a reservation on a designated date, depending on their date of travel.
People who need a bus between Feb. 10 and 14 should book tickets after Jan. 26. If you travel to the two Olympic host cities between Feb. 15 and 19, you should book your bus tickets only after Feb. 2. If you need to travel between Feb. 20 and 25, you will need to book your tickets after Feb. 9 at 11 a.m. Ticket reservations can be made until 10 a.m. of the day before your travel date.
Operating hours for the last buses of the day will be extended during the Olympics.
You will be able to use the final bus until 2 a.m. along the seven bus routes that pass by a KTX train station — either Sangbong or Seoul station – and the East Seoul Terminal.
Buses that travel passed Cheongnyangni Station will operate until 2:50 a.m. Buses that travel to the Express Bus Terminal will be run until 2:40 a.m.
These plans are part of the five support measures announced by the Seoul Metropolitan Government on Feb. 1. These measures are designed to help with the successful hosting of the PyeongChang Olympic and Paralympic Winter Games. The announced five measures include public transportation support, customized support for non-Korean tourists, cleaning up major tourist attractions, and cracking down on illegal overcharging of tourists.