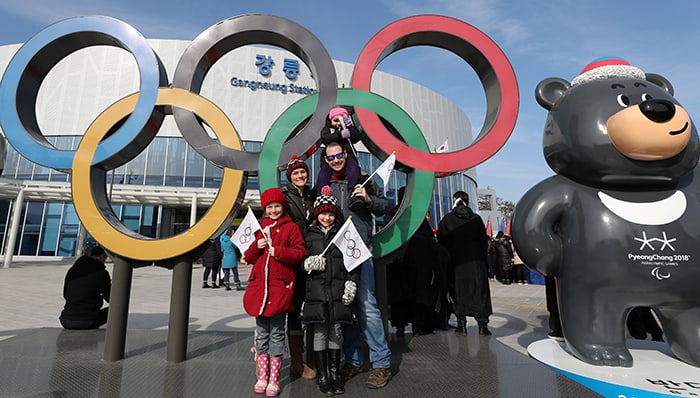 By Sohn JiAe
Non-Korean visitors to Korea during the PyeongChang 2018 Olympic and Paralympic Winter Games earlier this year were highly satisfied with their time in the nation. In addition, they spent quite a lot of money during their stay here.
A recent survey of non-Korean tourists during the Olympic period was released on April 25 by the Ministry of Culture, Sports and Tourism and the Korean Tourism Organization (KTO). It showed that the amount spent per person during the Games amounted to USD 2,026 and the length of stay per person was 8.9 days, on average.
The survey showed that the number of tourists from around the world who came to Korea in February alone numbered 1,045,415, among which 280,000 — 28.1 percent of the total — were Olympic fans and people engaged with the Olympics.
These Olympic visitors included athletes, coaches, judges, journalists and their family members, as well as people who came to just watch the Games. According to the survey results, their satisfaction with their time in Korea was as high as 96.1 percent. To be specific, they were satisfied with security (91.1 percent) and with the convenience of using Wi-Fi and mobile devices (85.7 percent).
Their spending on average came to USD 2026.7, which is USD 529.1 higher than that spent by non-Olympic visitors who travelled to Korea for other purposes.
The Japanese were the largest group among Olympic visitors, accounting for 38.7 percent of the total, followed by tourists from the U.S. and Canada, both at exactly 22.9 percent, China (13.7 percent), Europe (10.6 percent) and, lastly, Russia (5.7 percent).
Olympic spectators stayed for 6.5 days on average, while athletes, coaches and representatives spent 12.3 days in Korea, which gives us the 8.9 days average per person. That's still more days in-country than ordinary visitors, who stayed 6.9 days, on average.
The survey results said that 73.4 percent of Olympic visitors were independent travelers who did other activities, other than watching the Games, while here, like shopping (88.9 percent) and sightseeing & eating (70.8 percent).
"A majority of Olympic visitors were from the Americas and Europe, which proves that there's potential for diversity across the tourism industry," said a KTO official.