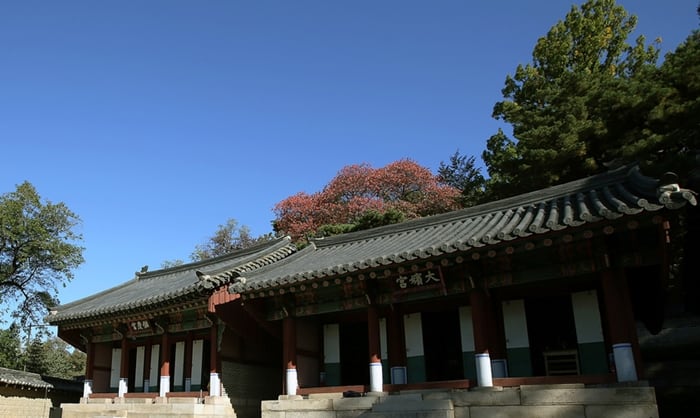 By Kang Gahui and Kim Young Shin
The Chilgung (칠궁, 七宮) collection of shrines, also known as the Yuksanggung (육상궁, 毓祥宮), constitutes seven shrines for seven Joseon royal mothers. It's located inside the Cheong Wa Dae complex, and it used to be open solely to limited people. Starting this June, however, the collection of shrines will receive a lot more tourists and history aficionados.
The Cultural Heritage Administration announced on May 15 that the Chilgung shrines will test-open to the public in June and then begin to invite more visitors between July and December.
The Chilgung houses the ancestral tablets for seven royal concubines who gave birth to a baby that either became king or that was eventually honored as a king. Four of the women are: Sukbin from the Choe family (숙빈 최씨, 淑嬪 崔氏) (1670-1718), the mother of King Yeongjo (영조, 英祖) (1694-1776); Huibin from the Jang family, (희빈 장씨, 禧嬪 張氏) (1699-1694), a royal concubine of King Sukjong (숙종, 肅宗) (1674-1720) and the mother of King Gyeongjong (경종, 景宗) (1688-1724); Yeongbin from the Yi family (영빈 이씨, 暎嬪 李氏) (1696-1764), the mother of Crown Prince Sado (사도세자, 思悼世子) (1735-1762); and Subin from the Bak family(수빈 박씨, 綏嬪 朴氏), a royal concubine of King Jeongjo (정조, 正祖) (1752-1800) and the mother of King Sunjo (순조, 純祖) (1790-1834).
In June, the collection of shrines will be open five times per day, and 60 visitors will be allowed in each time. Between July and December, the shrine will continue to open daily, but on Saturdays it will open 5 additional times with 100 visitors each time. The shrines are closed on Sunday and Monday.
For a tour of Cheong Wa Dae and the Chilgung collection of shrines, reservations must be made at the Cheong Wa Dae website prior to your visit. To visit the Chilgung shrines only, visitors must book a tour at the Gyeongbokgung Palace website.