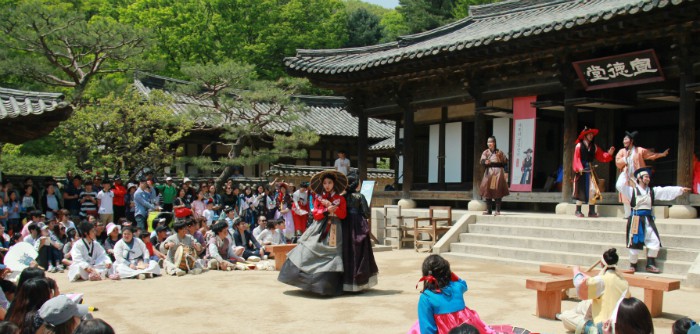 By Kim Young-ah and Sohn JiAe
Photos= Kim Young-ah
May 1, 2017 | Yongin
"A time capsule."
This is what might come across your mind when you think about the Korean Folk Village in Yongin-si City, Gyeonggi-do Province.
The tourist site, one of many attractions across the province, is home to buildings and sites from Joseon times, taking you more than 150 years back into the past. Nowadays, it feels even older as the "Welcome to Joseon" festival has been underway since April 1.
Strolling down a quiet dirt path lined with replica Joseon buildings, there are ones that served as government offices or as police stations, there are 99-room homes for the upper class yangban Joseon landlords, and there are humble thatched-roof houses for the commoners and farmers. It probably soon feels awkward being dressed in today's jeans and T-shirts instead of in traditional Hanbok clothes. When actors and actresses in traditional Hanbok put on a show at the tourist site, it gives you the feeling as if you were really back in Joseon Korea.
As the "Birthday Party for the Village Governor" performance unfolded at what used to be a site where offenders were punished, a bout of laughter, instead of wailing in agony, filled the place. Among the spectators were non-Korean tourists, too, who surprisingly joined in the laughter even without interpretation.
"It's not hard to understand the show," said Melissa Carvigont, one of the non-Korean spectators who came from Guadeloupe. "It's hilarious," she said. She and her friends said, "We'll definitely recommend this to our friends, that they should come here."
Running until June 18, the festival offers a variety of programs. Visitors will be able to make traditional hopae identification tags (호패, 號牌) that were carried by male citizens over the age of 16, mapae tags (마패, 馬牌) that were used to register horses and men from far away locales, and even hangnang incense pouches (향낭, 香囊).
There is also a range of exhibits that look at traditions, folk games and farming skills, while restaurants and stores at the tourist site sell a wide range of Korean dishes, too.