Waves of Taegeukgis celebrated Liberation Day on Aug. 15 this year as the nation marked the 70th anniversary of its independence. In the heart of downtown Seoul, Gwanghwamun Square was home to a special exhibition spotlighting photographs of the Taegeukgi flag, which has shared in the modern nation's history over the past 70 years.
Under the title of, "Precious Memories, Eternal Pledge," the photo exhibition, still underway at the square, brings to light the history of the national flag, a symbol that has accompanied the nation along its journey, from the struggles for independence through to this day.
The exhibition tells the story of the flag in five parts: liberation, protection of the nation, peace, a pledge to the nation and, lastly, special exhibits involving citizens. Approximately 270 images related to the national flag and how it has transformed over the years will be on exhibit until Aug. 19.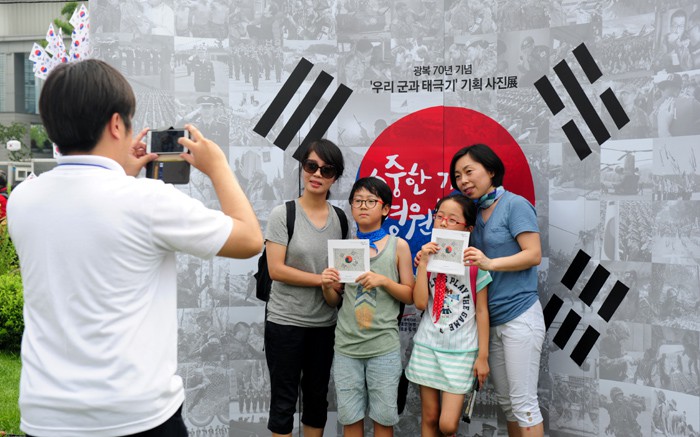 The "Liberation" section takes a look back on times spanning from late Joseon, when the Taegeukgi was first designated as the national flag, until the country was granted its independence. Other exhibits feature Taegeukgi flags in company with those who fought during the Korean War (1950-1953). The willingness of many independence activists to sacrifice their lives can be seen in the photographs.
In the "Peace" section, images showcase the nation's transition from being a nation which asked the world for help during war into one that dispatches its soldiers overseas as part of the efforts made toward world peace. Regular citizens, too, are part of the event, as they submitted their own thoughts on what the "pledge to the nation" really means as art.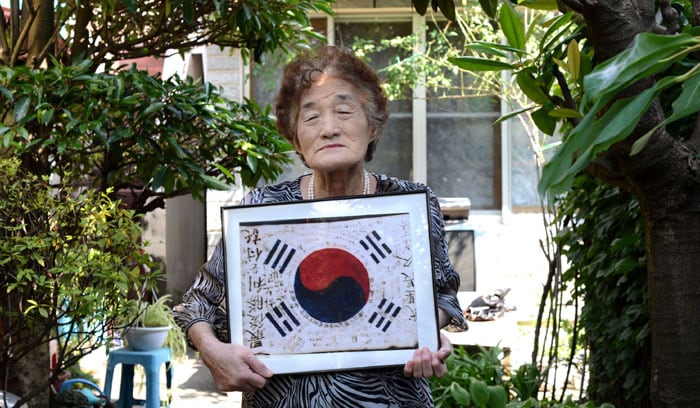 "This exhibition is a chance to look back on our soldiers who had to endure over the past 70 years of ordeal as they tried to bring independence to the nation," said Minister of National Defense Han Minkoo. "I hope people here can remember and share in the allegiance to the nation that our soldiers have vowed to uphold."
The exhibition is open from 9 a.m. to 10 p.m. every day at Gwanghwamun Square.
The Sarangchae exhibition hall at Cheong Wa Dae, too, holds a similar photo exhibition under the same theme. The Sarangchae exhibition will continue until Aug. 23.
By Sohn JiAe
Korea.net Staff Writer
Photos: the Ministry of National Defense
[email protected]