A Korean and a Chinese student, both studying at Peking University in Beijing, have been honored with the grand prize in the "Thesis Contest on History for Sino-Korean College & Graduate Students," an essay competition run by the Northeast Asian History Foundation.
The contest paired Korean and Chinese students, studying at either the undergraduate or graduate level, and had the teams share their thoughts about history. The theses were written in both Korean and simplified Chinese.
The prize-winning thesis was titled "Possible Cooperation Between Korean and Chinese Private Organizations to Solve the Issue of the So-called 'Comfort Women' Victims of the Imperial Japanese Army in a Peaceful Manner."
The panel of judges recognized the creativity and timeliness of the issue the students dealt with in their work. They brought up the possibility of joint efforts between the two nations to solve the issue. The panel also acknowledged that their thesis offered a noble idea that non-governmental organizations from Korea and China could do something in this regard.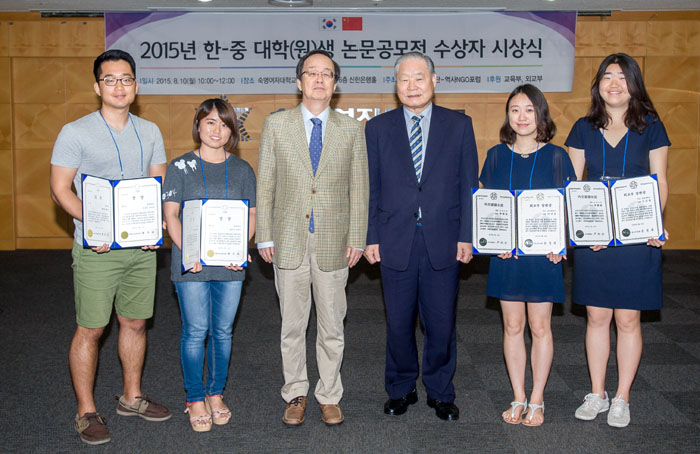 Among other entries in the contest were three dissertations that underlined the importance of interaction between Korean and Chinese students, highlighting the rising interest in bilateral person-to-person exchanges. Other students, meanwhile, brought up the sound alliance between the two nations during war and Japanese colonialization and talked further about how to keep and expand the close ties.
The contest marked its fourth run this year, since starting in 2012 as part of events to commemorate the 20th anniversary of the establishment of diplomatic relations between Seoul and Beijing.
"These students, who will lead the future of Korea and China, had hopefully an opportunity through this event to get a deeper understanding of each other and each nation, better than ever before, and will lead the efforts to achieve unity and cooperation across Northeast Asia," said Kim Hak-joon, president of the Northeast Asian History Foundation.
By Wi Tack-whan, Sohn JiAe
Korea.net Staff Writers
[email protected]