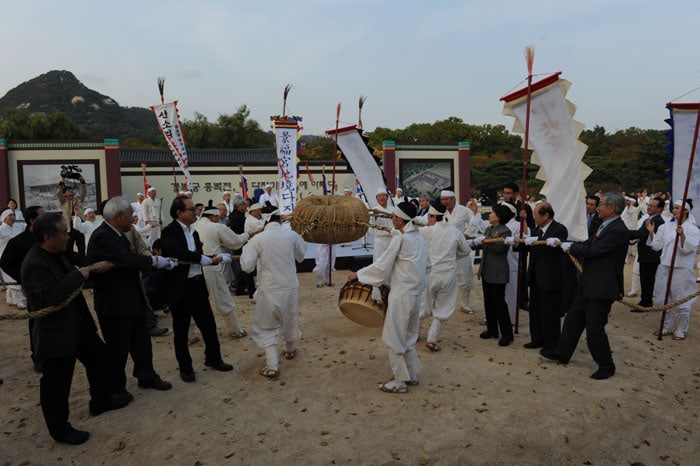 The Heungbokjeon, part of the royal palace buildings at Gyeongbokgung Palace, is now to be rebuilt.
This network of buildings and pavilions, whose name literally means "a revival of blessings," was demolished in 1917 during Japanese colonial times in order to help repair parts of Changdeokgung Palace that were partially destroyed by fire.
The ceremony to mark the beginning of restoration work took place at Gyeongbokgung Palace on Oct. 23.
Built in 1867 during reconstruction work at Gyeongbokgung Palace, the Heungbokjeon was used as a residential building for royal concubines and ladies-in-waiting, and eventually became the center of managing their duties across the palace, with specific duties assigned to each individual. It was later used as a reception hall where the king would meet diplomats. The Heungbokjeon is also known as the building where Queen Sinjeong (1808-1890), mother of the 24th Joseon king, Heonjong (1827-1849), passed away. After the original building was demolished, a Japanese garden was built on the same site.
Now, some 100 years after the building disappeared from the grounds of Gyeongbokgung Palace, a traditional ritual to report to Heaven the commencement of restoration work on the Heungbokjeon, a gaegi goyuje, as well as a ceremony to officially harden the earth for construction, a jigyeong dajigi, have both been performed at the royal site.
Once reconstruction is completed by 2018, the Heungbokjeon and its adjacent network of buildings will be used as a venue where traditional reception and protocol events for oversea envoys will be reenacted.
By Yoon Sojung
Korea.net Staff Writer
Photos: Cultural Heritage Administration
[email protected]