Traces of human existence dating back to prehistoric times have been found in Yeoncheon-gun County, Gyeonggi-do Province. The area is home to numerous prehistoric discoveries along the Imjingang and Hantangang Rivers that flow through the region.
In 1978, there was a find that created quite a sensation across the world of archeology. A hand axe from the Lower Paleolithic Period was discovered, a first for East Asia. Behind the milestone discovery was Greg Bowen, then a senior airman who was working with the U.S. Army's 2nd Infantry Division stationed in Dongducheon, Gyeonggi-do Province.
Bowen had studied archeology at Indiana University Bloomington and joined the Army to gain subsidized tuition. On Jan. 20, 1978, when off duty, Bowen went on a picnic to a national park near the Hantangang River in Jeongok-ri. As he strolled down the river, he noticed a shard of pottery and a charcoaled piece of wood sticking out of the ground where the path was being paved. That moment rekindled his archeological interest. Excited by the unexpected discovery, he started to look closely across the whole area. After a long exploration around the area, he took a break, put down his backpack and got ready to boil some water. At that moment, something caught his eye. It was a hand axe of seemingly historic importance. Combing across the area, he then found three more hand axes and a scraper. That's how these time-honored artifacts came to the fore. The world's archeological archives finally included these ancient artifacts formally excavated across the field in 1988, a first-ever for the peninsula, East Asia and the world.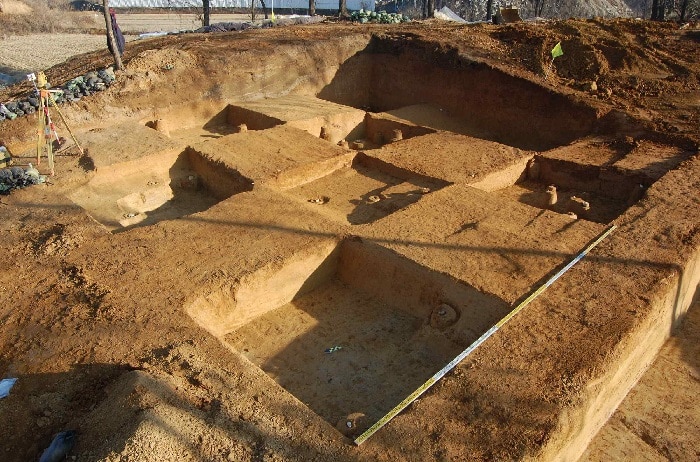 Namgye-ri in Yeoncheongun County is about 2.5 kilometers to the northwest of Jeongok-ri, an area where the first-ever Acheulean hand axe in East Asia was found in 1978. It's about 3 kilometers to the northeast from the point where the Imjingang and Hantangang Rivers join.
In more recent years, the area has been home to a series of Paleolithic remains that have come to light. According to the Korea Cultural Heritage Institute on Jan. 11, as a result of excavations in the region, they have found more than 1,000 Paleolithic artifacts, ranging from hand axes to chopping tools.
Among the new finds, there is a large block of stone, known as a momdol (몸돌), which was used as the basic material from which to make stone tools. There was also a handheld axe, chopping tools with sharp edges and polyhedral stoneware (여러면석기, 多角面圓球).
"Among other artifacts, a cleaver (가로날도끼, 橫刃石斧) made out of stone flakes (격지, 剝片) that we believe were chipped from the momdol, as well as hand axes, tools that we assume were of wide use back then, will help us get a better understanding of the lifestyle and traditions that existed along the banks of the Imjingang and Hantangang Rivers during Paleolithic times," said a member of the research team.
By Sohn JiAe
Korea.net Staff Writer
Photos: Korea Cultural Heritage Institute
[email protected]