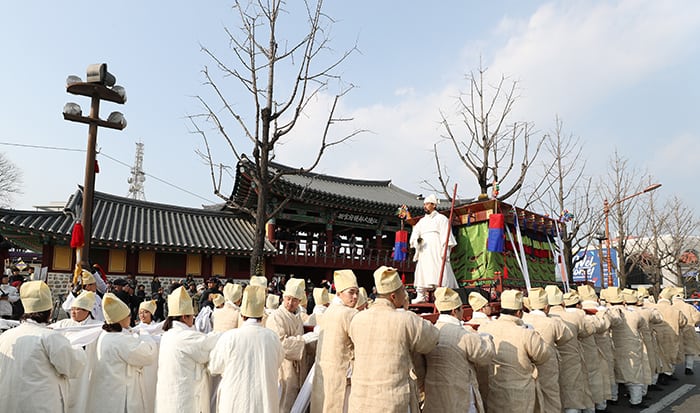 By Korea.net PyeongChang Olympics Team 
Photos = Kim Sunjoo 
Gangneung | Feb. 22, 2018
"Please, please be well on your way. You will never be able to come back. Alas, alas!"
Thus was crying the sad voices at Dano Park in Gangneung, one of the host cities for the PyeongChang 2018 Olympic Winter Games.
A reenactment of an ancient royal funeral took place at the park on Feb. 22. The funeral honored Joseon's sixth monarch, King Danjong (단종, 端宗) (r. 1452-1455), the only Joseon ruler who died without a formal national funeral.
In the past, Joseon and its neighbors celebrated many ceremonial occasions (관혼상제, 冠婚喪祭), such as the coming-of-age, marriages and funerals, by holding grand festivals. This act, changing a funeral, an otherwise mournful event, into a festival, was reenacted as a part of the Cultural Olympiad that's taking place in the host-cities during the Olympics.
The royal funeral parade stretched for 100 m and consisted of 700 participants, including many Gangneung citizens, actors and tourists.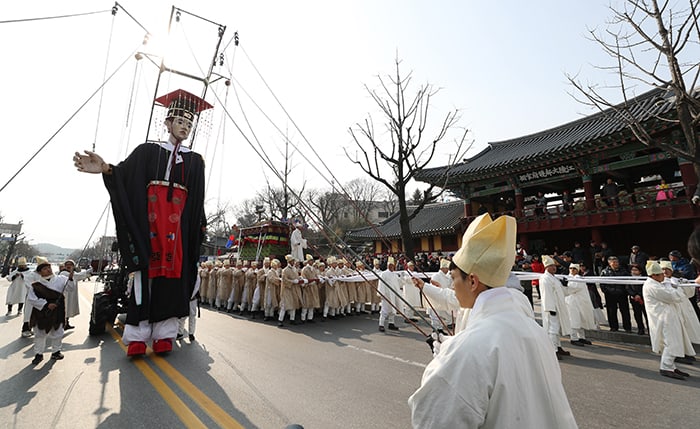 Starting with the gyeonjeonui ritual (견전의, 遣奠儀), which was held before the casket heads to the tomb, the funeral parade marched 1.3 km from the Dano Park to the Joseon-era Gangneung Local Government Office.
As participants stood in long lines dressed as guards or official mourners, all wearing proper Joseon funeral clothing, people gathered to watch the unusual scene. Particularly, many non-Korean tourists who weren't familiar with Joseon-era rituals, followed the parade and took pictures of the interesting exhibition.
The 5-meter giant marionette that appeared at the old government office wowed the crowd. It reached out its hands as it moved forward, as if it were the king taking care of his people.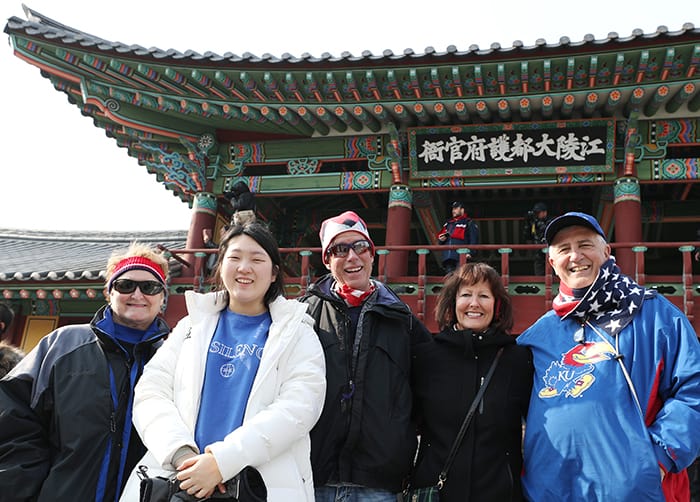 "I'm happy to learn about Korean heritage today," said Gaye Skelly Peterson, the mother of U.S. curling athlete Tabitha Peterson, who took part in the parade. "I'd like to see other events, too."
Diane Skelly said that she read about King Danjong, who died at a young age. "It feels a little sad to think that the funeral, which could not take place at the time, is being reenacted now."
"It's interesting to see a Joseon royal funeral," said Zhang Jinsong (张劲松) from Beijing. "It's amazing that such a ceremony can take place after several centuries. Such an event is meaningful in that, not only through sports, but also through culture and history, people here at the Olympics are interacting with each other."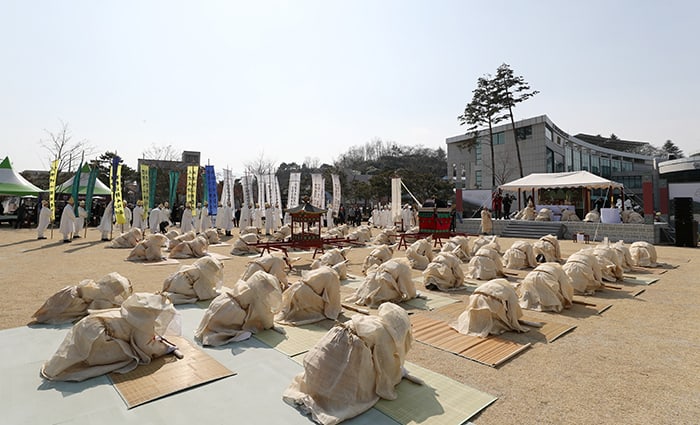 km137426@korea.kr