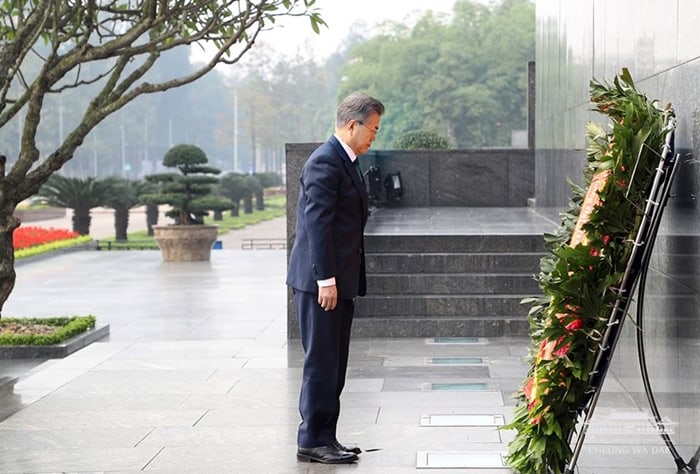 By Park Hye Ri and Sohn JiAe
President Moon Jae-in expressed his regrets concerning massacres of Vietnamese civilians by Korean soldiers during the Vietnam War, during his summit with his Vietnamese counterpart, Tran Dai Quang, in Hanoi on March 23.
This was his second expression of apology since taking office, following one in November last year when he said in a video message at the Ho Chi Minh City-Gyeongju World Culture Expo 2017 that, "Korea has a debt of heart to Vietnam."
In this summit, President Moon said that, "While we continue to develop exemplary bilateral cooperation between our two countries, I express my sincere regrets concerning our unfortunate recent history that remains in our minds."
In response, the Vietnamese leader praised the Korean government's sincerity toward its involvement in the Vietnam War, hoping that, "Korea will make more efforts to heal the wounds of the past, solidify our bilateral friendship, and strengthen cooperation for prosperous co-existence."
Two former Korean presidents have also expressed their regrets concerning the painful history. In 2004, former President Roh Moo-hyun said, as he paid tribute at the Ho Chi Minh Mausoleum during a state visit, that, "Korea holds a debt in its heart to Vietnam. However, we dearly hope for the success of Vietnam."
Before that, former President Kim Dae-jung also expressed his feelings in a summit with the then Vietnamese leader Tran Duc Luong who visited Korea in August 2001, saying that he was sorry for Korea's participation in an unfortunate war and for unintentionally creating pain for the people of Vietnam.
hrhr@korea.kr