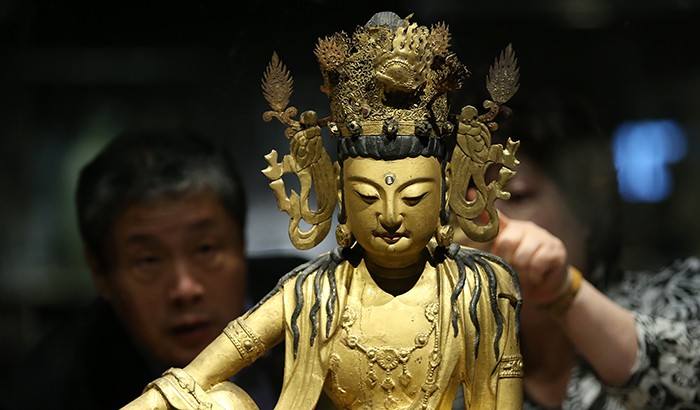 A special exhibition allowing a peek into the earnest hopes and minds of ancient people, as reflected in Buddhist art, has just opened.
The "Devout Patrons of Buddhist Art" exhibit being held at the National Museum of Korea from May 23 to August 2 not only demonstrates the essence of Korea's ancient Buddhist art, but also explains the history of how these art works were produced, focusing on the human stories of the masterpieces.
The Korean title of the exhibit contains the word balwon, which means that people practice good deeds and pray to Buddha to make their wishes come true. Since Buddhism was transferred to the peninsula during Korea's Three Kingdoms Period (57 B.C.-A.D. 668), kings, the royal family, aristocrats and commoners all presented their properties, such as paintings, sculptures, bells and sutras, to Buddha in religious rituals. Their hopes and religious devotion were reflected in temples and on Buddha statues and Buddhist paintings. Now, we can see the joy, anger, sorrow and pleasures of people from ancient times through these religious art works.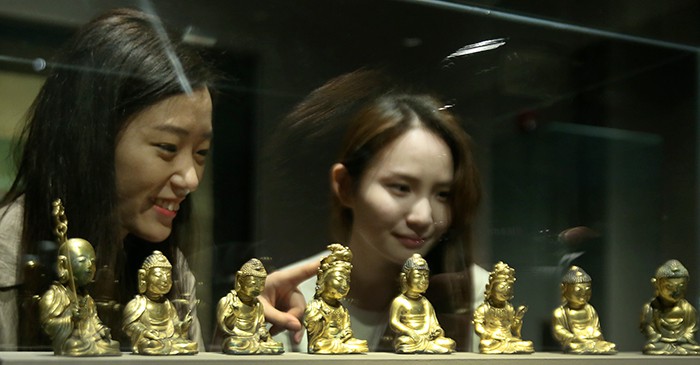 On display are 431 artifacts from Korea's Three Kingdoms Period and from Goryeo (918-1392) and Joseon (1392-1910) times. Visitors will be able to see the, "Bokjangmul, Objects From the Amitabha Buddha of Heukseoksa Temple," made of colorful textiles, as well as the, "Bhaishajyaguru Triad," a painting presented by Queen Munjeong (1501-1565). The latter portrays the hopes of women in Joseon's royal court.
Visitors can also see the "Amitabha Buddha's Assembly in the Western Paradise," a painting presented by the three daughters of King Sunjo (r. 1800~1834), and the, "Suvarnaprabhasa Sutra," presented by Queen Inmok (1584-1632), a wife and queen consort to King Seonjo (r. 1567-1608).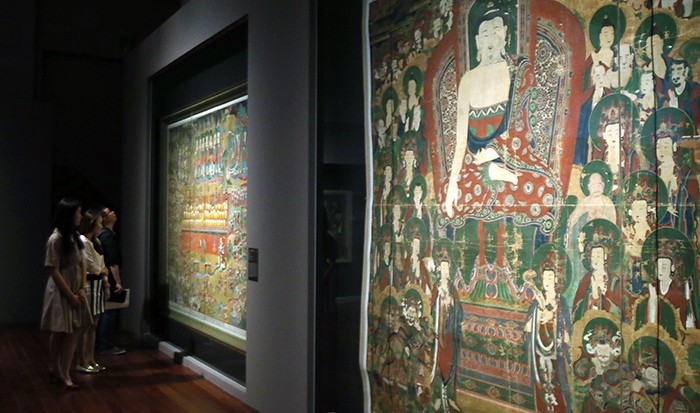 "The Buddhist art on display at the exhibit includes state-funded-and-produced reliquaries and small Buddhist paintings that were made out of the humble hopes of commoners. They all reflect religious beliefs and wishes," said the National Museum of Korea. "The wishes reflected in Buddhist art are not much different from the hopes held by people of modern times."
By Jeon Han, Limb Jae-un
Korea.net Staff Writers
Photos: Jeon Han
[email protected]