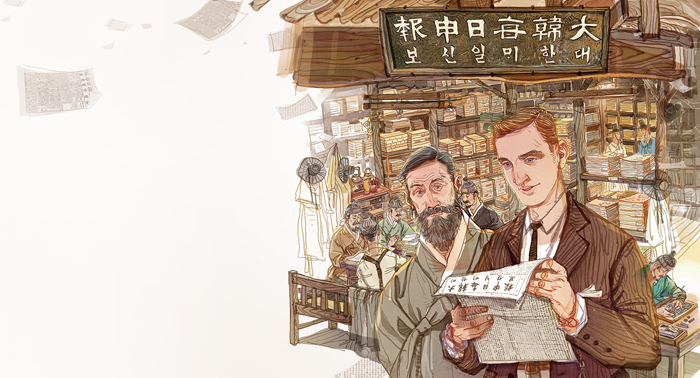 By Jeon Han
Photos = Jeon Han
Illustration = Manus Eugune
"I might die but let The Daehan Maeil Sinbo (The Korea Daily News, now The Seoul Sinmun) remain to save Koreans" were the last words of Ernest Thomas Bethell (1872-1909) before he died in Korea on May 1, 1909, at age 37.
Bethell first went to Korea in 1904 as a journalist for the British newspaper The Daily Chronicle to report on the Russo-Japanese War. As he watched Japan's ambition to invade Korea growing more intense, he quit his correspondent job and on July 18, 1904, founded a newspaper, The Daehan Maeil Sinbo, with a sister edition published in English called The Korea Daily News as publisher and editor.
Yang Ki-tak, a Korean intellectual who was also a leading independence activist, helped establish the newspaper, which was also supported by other Korean independence fighters. The list of renowned editors at the pro-independence daily included Park Eun-sik (1859-1925), the second president of the Provisional Government of the Republic of Korea, historian Shin Chae-ho (1880-1936) and Choi Ik, who is known for writing the legendary editorial "Last Words to My Fellow Koreans" in 1909.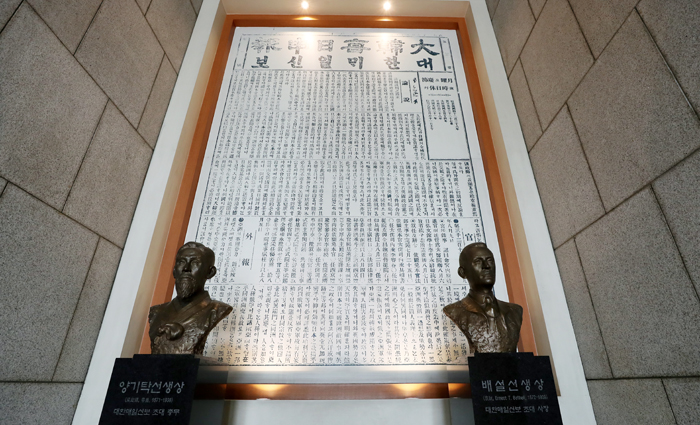 Free Press for Truth
Korea was forced to sign the Eulsa (Japan-Korea Protectorate) Treaty in November 1905, and this resulted in the setup of the Japanese resident-general of Korea in which Ito Hirobumi (1841-1909) took over Korean affairs. This is when imperial Japan essentially started exercising power over the Korean Peninsula, which included censoring all newspapers before publishing.
Amid this crisis, Bethell exercised extraterritorial rights as a British citizen, allowing him to dodge Japanese censorship and publish three newspapers: The Daehan Maeil Sinbo(published in Korean and Chinese characters), The Korea Daily News (English) and a pure Hangeul version with no Chinese script in May 1907. These newspapers served as a significant platform to report on Korea's situation without Japanese interference as well as support the anti-Japanese movement.
Three days after the Eulsa Treaty was concluded, Jang Ji-yeon wrote "Siilya Bangseong Daegok (I Wail Bitterly Today)," which is considered the best editorial in the history of Korean newspapers, in The Hwangseong Sinmun (Capital Gazette). As a result, the pro-independence daily was shut down.
Bethell, however, held nothing back in praising Jang's courage and criticizing the unlawful treaty Japan forced on Korea. He also translated the editorial into English and published it in The Korea Daily News. The Japan Chronicle, an English-language publication produced by British expats in Japan, also posted the editorial to publicize Korea's plight to Westerners in Japan.
Koreans had absolute faith in The Daehan Maeil Sinbo, with circulation of Bethell's three newspapers reaching 10,000 copies by September 1907, or more than that of all other newspapers combined at the time.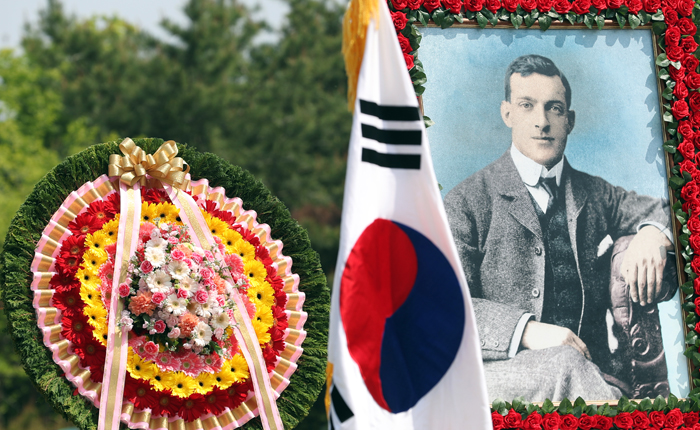 Exhausting Accusations and Trials
As Bethell's newspapers earned more influence, they quickly drew the ire of Japanese colonial authorities. Japan demanded that the British government order him to leave Korea, which led to the British consul-general in Seoul trying him in 1907. He was accused of breaching public order through ten articles carried by his newspapers and was sentenced to six months of probation. Japanese authorities, however, kept insisting that Bethell be forced out of Korea, which led to a second trial in 1908. The three-day trial involving three countries—Korea, Japan and the U.K.—was concluded with the defendant sentenced to three weeks behind bars, six months of probation and a fine of GBP 350.
On July 11, Bethell was freed after spending three weeks in a Shanghai jail. Yet again, Japanese authorities sought to kick him out of Korea, and Japanese media falsely announced that he had embezzled public funds Koreans collected. In response, he took his case to the British Supreme Court in Shanghai and won in December 1908.
Tragedy struck on May 1, 1909, when Bethell suddenly died. The cause of death was apparently cardiomegaly (enlarged heart), but the real reason was believed to be severe stress due to his time in jail and pressure inflicted on him by Japanese authorities. Koreans mourned his death including King Gojong, the last monarch of the Joseon Dynasty who said, "Merciless God, why are you taking him away so abruptly?"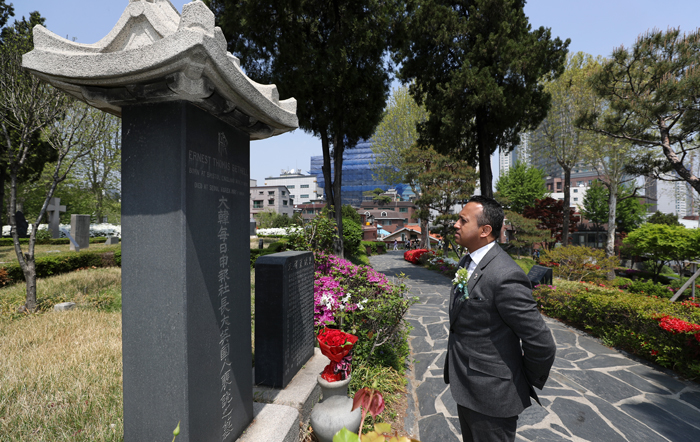 Remembering Bethell
On May 2, 1909, thousands gathered at Bethell's house to attend his funeral, and his procession was followed by many people. "Koreans going to the cemetery mourned and cried along the way. Women cried near Mr. Bethell's house as well. A British pastor, Turner, led the funeral and a Korean pastor, Jeon Duk-gi, prayed before the burial. A lot of people bowed before and paid their respects to Bethell at his grave. Koreans and non-Koreans who came all the way to the cemetery totaled around 1,000, The Daehan Maeil Sinbo said. Bethell's time in Korea lasted just six years but even 110 years after his death, he is still remembered and revered by Koreans.
On May 1, 2019, a ceremony marking the 110th anniversary of Bethell's death was held at Yanghwajin Foreign Missionary Cemetery in Seoul. Nik Mehta, deputy head of mission and minister-counselor at the British Embassy in Seoul, said in a speech there, "Mr. Bethell defended the public interest of Korea and represented the voice of people who had no power or means to speak up. Although he unfortunately couldn't get to see Korea's independence, the legacy he left behind is undoubtedly invaluable. His footsteps will never be forgotten in Korean history and his accomplishment has significantly contributed to the current friendly relationship between Korea and the U.K."