"The sky, land, humans, all creatures, and nature each have their own colors. So do clothes, objects and paintings. But for what reason do people favor different colors at different times?"
This was written by Yun Gi (尹祁, 1535~1606), a court official in the mid-Joseon era. In his book titled "Mumyeongjajip Mungo" (무명자집문고, 無名子集文稿), Yun questioned the reason for changes in color preference in accordance with the times.
We can discover the answer at a special exhibition "The Colors in Korean Life and Culture" at the National Folk Museum of Korea. Running from Dec. 14 to Feb. 26, 2017, this exhibition explores the values and color associations present in the lives and perceptions of contemporary Koreans. It also deals with the historical background and meanings behind colors in terms of folklore.
This exhibition is composed of three parts — Monochrome, Color Scheme, and Polychrome. Monochrome is split up into White, Black, Red, Blue, and Yellow.
Each of the colors is represented with related linguistic expressions, traditional beliefs and values and relics where such beliefs have been applied. The white section introduces the best-known expression referring to Korean people as the, "white-clothed people (백의민족, 白衣民族)"; related historical records; white durumagi outer coats; other varieties of Hanbok and traditional attire; and white porcelain or baekja (白磁), which conveys the humble and moderate life of seonbi scholars of the Joseon Dynasty.
White is naturally connected to black. Some of the displayed items in the black section include gat, traditional headgear for men in Joseon which symbolizes authority and mourning dresses that signify death. Other displayed items include a record about Japan's order to the Joseon people, banning them from wearing white clothes and forcing them to wear black school uniforms and black durumagi coats during Japanese colonial rule.
Curator Hwang Kyungseon said, "White was loved by all social strata, ranging from seonbi scholars to commoners in Joseon times."
"For this reason, we'd better take a closer look at Japan's ban on white clothing and the enforcement of black clothing, including durumagi coats and black uniforms. You see, the color white of the 'White-clothed people' represented the Korean people," said Hwang.
However, white was not the only color Koreans favored. This is demonstrated in the blue part of the exhibition. Curator Hwang said, "Blue is also the most liked color among Koreans, along with white, as evidenced in proverbs and linguistic expressions which refer to blue more times than any other color except white."
She also introduced related relics such as cheongja (blue-green celadon) and cheonghwa baekja (blue-and-white porcelain) both of which convey the idea that nature is considered utopia. In the blue section, we also find blue jeans which symbolize youth and are loved by all people, regardless of age and gender. This section also introduces traditional indigo dyed clothes.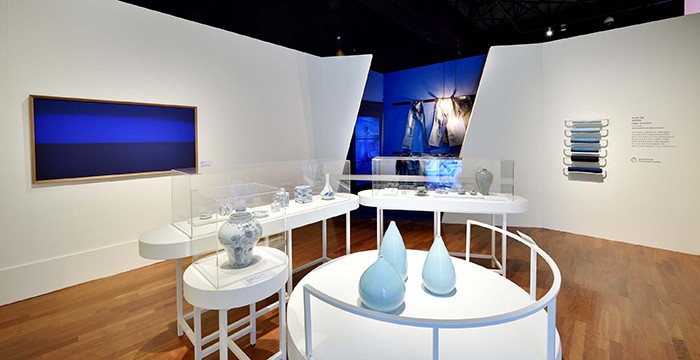 Red symbolized authority, seeking good fortune and expelling evil spirits. Items on display in this section include red bean porridge or patjuk (팥죽), eaten on Dongji, the winter solstice, red pouches in various shapes, and a portrait of Heungseon Daewongun Yi Ha-eung (興宣大院君 1820-1898) wearing a red court gown, the father of the 26th ruler of Joseon, Emperor Gojong (1852-1919).
In the red section, we can also find the changed notions of the color red in modern Korea as the color used to represent communism after the Korean War. However, later on, it became the color that bound Koreans together as the "Red Devils" as they cheered on the national football team during the 2002 FIFA World Cup held in Korea and Japan. Other Red Devils paraphernalia are also on display.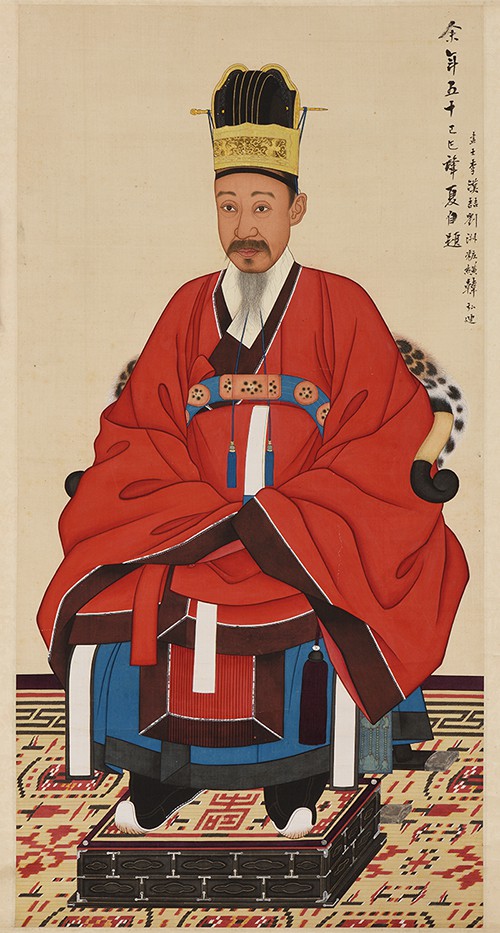 The exhibition explains yellow as the symbol of nobility, dignity and holiness. The use of the color yellow was restricted to certain classes of society and therefore cannot be found in the lives of ordinary people. For this reason, the yellow section displays artifacts of the Joseon royal court used by the Joseon royal family, notably by Emperor Gojong (1852-1919) and his family. These relics include a portrait of Emperor Gojong and Golden Investiture Book of Empress Myeongseong.
In the past, Koreans thought that they could usher in good fortune if they pursued a balance between yin and yang. Such beliefs are demonstrated in the Color Scheme section where the artifacts displayed show a colorful balance between yin and yang based on the belief of five elements, and a harmony between co-existence and compatibility. These relics include traditional bridal gowns that show a combination of red and blue, a red-lacquered two-tiered wardrobe that displays a vivid contrast between red and black, and Hakchangui (학창의), a white overcoat for scholars with a black collar.
In the Polychrome section, the exhibition displays colors used by Koreans, ranging from the members of the court to ordinary people, in their daily routine as well as during important ceremonial occasions. Museum-goers can appreciate a court painting titled "Ilwol Obongdo (일월오봉도, 日月五峰圖)" or "Painting of Sun Moon and Five Peaks," saekdong Hanbok or Hanbok with colorful stripes, and lacquer boxes made with mother-of-pearls that glitter and reflect a myriad of colors, changing according to the way the light falls. Visitors can also create a Hanbok of their choice by selecting colors of interest and combine them by using visual equipment, a "Color Custom Table."
The Director of the National Folk Museum of Korea Cheon Jingi said, "Many people use the phrase "white-clothed people" and believe that Koreans only love white, but it is not actually true."
"In this exhibition, we review the spirit and values of the times, the beliefs of our ancestors and also the various viewpoints regarding colors among Koreans today at the same time," said the museum director.
"I hope that we can learn more about the symbol and meaning of different colors which are not immediately apparent, and discover some Korean colors through this exhibition," he added.
By Yoon Sojung
Korea.net Staff Writer
Photos: Yoon Sojung, National Folk Museum of Korea
[email protected]