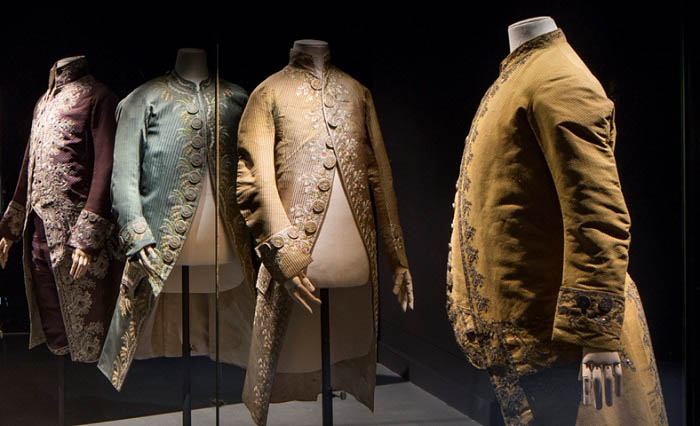 By Lee Hana
Photos = National Museum of Korea
May 29, 2017 | Seoul
A special exhibition has opened at the National Museum of Korea tracing the evolution of buttons that adorned French clothing from the 1700s through to the 1950s.
Featuring collections from Les Arts Decoratifs in Paris, the exhibit "Unbuttoning French Fashion From the 18th to the 20th Century" showcases some 3,000 buttons belonging to button collector Loic Allio, as well as 1,800 pieces of related clothing, drawings, books, photographs and other collectibles.
The exhibit kicks off with a prologue, where visitors are given a chance to familiarize themselves with French clothing from various eras, and the different styles of buttons that adorned the clothing.
Part one leads visitors into the grandeur of 18th century France, through to the days of the French Revolution. The buttons produced during this period, called the Golden Age of Buttons, features intricately crafted buttons with miniature portraits as well as ones decorated with gold thread, silk, and precious gems. These extravagant buttons can be seen on the cuffs and hems of the 18th century clothes of noblemen, the habit a la francaise, on display in this section.
Part two of the exhibit sheds light on the rapid political developments of the 19th century, from the French industrial revolution to the days of the French Empire, as told through the evolution of clothing and their buttons. Here, visitors can take a look at uniforms worn by Napoleon's men (1769-1821), lined as they are with mass-produced buttons. They can also see the influence of the Art Nouveau movement on the more decorative buttons of the period, with their elaborate yet geometric shapes and designs.
Part three moves on to the early 20th century, a period during which women started to enjoy a little more freedom in society. Here, visitors can take a look at haute couture dresses designed by designers that spearheaded the French fashion scene during this time, such as Paul Poiret (1879-1944), best known for freeing women from corsets, as well as Elsa Schiaparelli (1890-1973) who, along with Coco Chanel, was regarded as one of the most innovative couturiers between the two World Wars.
"This exhibit which centers around buttons, showcases some 1,800 different artifacts, including a wide range of costumes, paintings and even books," said Director General of the National Museum of Korea Yi Young-Hoon. "Through the exhibit, visitors will be able to experience a slice of French history through the prism of the tiny objects attached to each item of clothing: buttons. These objects can tell us about society's customs, trends, personal tastes of the wearer and even the political climate of a given period in history. It is my hope that this meaningful exhibit will help to increase cooperation between our museum and Les Arts Decoratifs in the days ahead."
The exhibit, which kicked off May 30, will be open to the public until Aug. 15.